Our Work
This long term client has hired coolrooms from Auswest Coolroom Hire over several years for their gourmet food retail store, Scutti on Angelo.  The client also operates Roberto Fine Foods, a distributor of fine Italian imported food products.  Auswest Coolroom Hire was selected to custom build a freezer room for their warehouse, to suit their unique size and design requirements.
'We needed a freezer built to uniquely fit a certain space.  We knew from past experience that Auswest Coolroom Hire would build one that's 'spot on' and to our specifications.'
Nick Scutti
Director
Roberto Fine Foods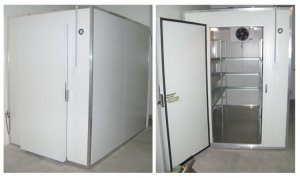 Distributors of imported, exotic beverages from around the world, this client required a skid-mounted cool room for their warehouse.  A custom built unit was created to the client's specifications, which included providing a walk-in capacity and extensive shelving on three sides of the unit from floor to ceiling to maximize storage space.
'The new cool room allows us to expand our business into new areas.  We found Auswest Coolroom Hire to be very thorough and fast in their work.'
David Gould
Managing Director
PDM Refreshments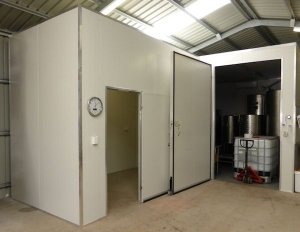 Meneghello Estate operates an olive grove and also provides the perfect landscape for wedding receptions. The client required a coolroom to store olive oil that it produces, therefore unique specifications included fitting large doors for forklift access into the storeroom and ensuring that the coolroom temperature was set at an optimum temperature.  Auswest Coolroom Hire was also employed to completely strip out and refurbish an existing ablution block for its wedding venue business. The job included fitting new vanities, tapware and bathroom products and co-ordinating and scheduling support trades such as electricians and plumbers.
'It goes without saying that the quality of the work was second to none. Tony provided very constructive feedback on what could be done better. He was very efficient, and the service and speed in which the work was completed was excellent. I highly recommend Auswest Coolroom Hire and would definitely use again.'
Danny Meneghello
Managing Director
Meneghello Estate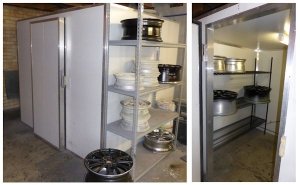 Specialising in the repair of bent or buckled car rims, and the paint and polish of rims to bring them back to their original appearance.  Auswest Coolroom Hire was engaged to custom build a heat room that would retain heat in order to effectively bake paint that is applied to repaired rims.
'The heat room was a great idea that Tony came up with for us and it works very well for our business.  We're very happy with the quality of the heat room and will definitely use Auswest again for any other units that we may need.'
Mark Vellutini
Owner
Alliance Rim Repairs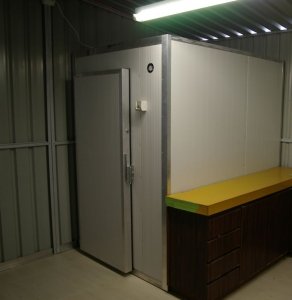 A tailor made, large sized coolroom was custom built on site to fit into this client's existing 'man shed' at his residential property. Pasco Rechichi is a cattle and lamb breeder and required a coolroom for storage of meat and other food for domestic use and home parties. Auswest Coolroom Hire also organized a qualified electrician to install adequate additional lighting within the man shed and inside the coolroom.
'I wanted a very high quality coolroom with no corners cut, and that's why I chose Tony at Auswest Coolroom Hire. The after sales service was also excellent, and nothing was ever too much for Tony. I'm very happy with the professional job that was done for us.'
Pasco Rechichi
Perth resident